Statistics
Statistics Server 5.0 Live Web Stats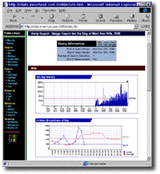 An excellent method of monitoring your site's performance and audience. These stats include many important options which produce vital statistics including number of hits, viewer locations, and peak browsing times for your site. These stats are completely live and can be viewed at all times.
Statistics Server is all about answering the questions management, marketing and web administrators ask in order to make informed decisions about their Web investment. Things like, How many users visit every day, every week, every month?, Who are they?, Where do they come from? With Statistics Server you can deliver the answers in record breaking time.
Another really neat feature Statistics Server offers is the live Who's On report which shows everyone on the web site, where in the world they are from and what they are doing. Because Statistics Server is a stand-alone Web server it also doubles as an inbound and/or outbound click through tracker. Click threw's are considered to be the most accurate way to measure the effectiveness of Web advertising.
With raw log files, you can use 3rd party log analysis software to create you own specific reports. You must download the logs to your computer before you can use them.