ASP Components
Server Objects ASP Component Bundle

We now support an ASP Component Bundle from Server Objects which gives you access to some of the most popular ASP Components on the market! Please feel free to visit the Server Objects Web Site for more information on the listed components.
- ASPMail Component
Used on 1000's of web sites around the world, this component allows you to send SMTP mail directly from a web page with just a few lines of code!
- ASPPop3 Component
AspPop3 allows you to retrieve and delete mail from any standard POP3 server via a Web page.
- ASPHTTP Component
The AspHTTP component allows you to GET/POST/HEAD documents via the HTTP protocol; Exposes HTTP response headers; Supports transferring requests to a file (including binary transfers); Password authentication support and more.
- ASPDNS Component
AspDNS can do forward and reverse DNS lookups returning either the IP address or the host name.
- ASPIMAGE Component
AspImage allows you to create or modify images "on the fly". Create new or modify PNG, JPG, GIF, & BMP images.
- ASPChart Component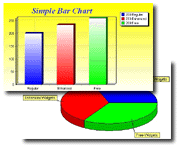 This useful ASP Component allows you to create professional looking charts "on the fly" with just a few lines of code.
Features include:
Creates JPG, PNG and BMP formats
3D features
Supports Response.BinaryWrite
Pie, Bar, Area and many other styles
Automatically creates legends
Supports multiple series per chart
Charts are resizable
Charts can be rotated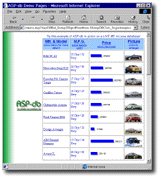 ASP-db PRO is now supported! You can now publish the information in your databases to the web with ease. Create dynamic tables and navigation buttons with only three lines of code! You can publish your Microsoft Access databases, Excel spreadsheets, SQL Server Database, or any other "ODBC" data source.
Click here for a Live Demo of ASP-db PRO!
Software Artisans FileUp Component

SA-FileUp allows users with a web browser to transmit files from their local hard disk to a Microsoft Internet Information Server (IIS) web server. Files can be of any format, such as Word documents, images or plain text. Files up to 2 GB in size can be transmitted.

Developers can use SA-FileUp to receive and process user input, while staying within the context of their Active Server application.

SA-FileUp also includes a file download component, which allows you to simply and easily download files from the web server to the user's browser, with better security but without complicated registry settings. Click here for more information on SA-FileUp.
Coalesys PanelBar & WebMenu Component

Coalesys PanelBar and WebMenu assist ASP developers in creating one of the most important aspects of web site design: Navigation. They offer more than just simple navigation. The product delivers DHTML behaviors that can really make a web site stand-out. Plus, it gives the developer a unified set of tools which vastly simplifies the maintenance of the site's structure. Click here for more information on Coalesys PanelBar and WebMenu.
More ASP Components Coming Soon!
Please e-mail us with any suggestions for new components. Making our clients happy is our priority! If a new ASP Component or feature will make you happy, then we will most certainly consider installing it for you on our web servers.